Best Dirt Bike For 13 Year Old Boy
It is not a surprise that young children can ride a dirt bike and join various competitions arranged monthly and annually. Different brands came up with dirt bikes specifically made for young riders with exact age for them to match. So if you are looking for the best dirt bike for 13 year old boy, you have come to the right place as we will suggest you the best ones.
It is always said that young people can learn faster than adults. Hence, it is recommended people start learning everything at a young age. If your boy wants to be a dirt bike rider or wish for them, it is better to start the process as early as possible, and 13 years seems to be a good time. So, for all the parents who want to buy the best dirt bike for 13 year old boy, we have the list ready below for you.
Best Dirt Bike For 13 Year Old Boy
Kuberg Young Rider Trial Hero Dirt Bike
The first dirt bike that we recommend to all the 13 year old boys is the Kuberg Young Rider Trial Hero Dirt Bike.
This is one of the best dirt bikes for kids aged around 13/14 due to all its convenient function. It is an electrical E-bike, which will offer you all the safety and easy to operate options for your kid to enjoy their dirt biking session without any worries. As it is powered by electricity, you have to keep it charged and use it when you want to. Your kid will not have to work with the motor to get the dirt bike started. The motor is powerful enough to provide 3000 watts of noiseless power. The power setting has three-speed settings to match your kids' skill level.
There will be no noise to the bike, so if you leave in an area where people can get irritated due to the motor noise, you will have nothing to worry about with this bike. As for safety, there is a kill switch in a wristband, which will allow you to disengage the motor when it is pulled out immediately. The bike is also made with a rugged and reliable component to ensure your child's safety with the best quality.
Pros
Electric dirt bike
It does not make any noise
Has three-speed setting
Safety kill switch on the wristband
Made with reliable and high-quality component
Cons
Have to purchase the other components separately
Yamaha TT-R110E
If you want your kids to experience more professional dirt bike sessions with something that resembles one of the best professional dirt bikes out there, you might want to try the Yamaha TT-R110E edition of 2021.
This dirt bike is inspired by the most popular Yamaha YZ race bikes. The design and engineering of the bikes tried as best as to stay similar for the kids to get the best experience out of it. The outlook of the bike is top-notch, but its unique features do not end with the look as it offers many things to the owner. Your kid will feel the most incredible comfort running this bike in the roughest dirt bike terrain. Due to having Yamaha's popular 4-stroke engine, this dirt bike becomes an utter pleasure for the rider. The engine will provide a solid and smooth ride.
There is front and rear suspension available on this bike, specially designed for off-rode driving to handle any road. Each part of the bike is made with high-quality material to make it as durable as possible. There are drum brakes in the front of the bike for quick and easy maintenance. Also, the tire choices of the bike make it easy to ride on uneven and rough terrain.
Pros
Has Yamaha's 4-stroke engine
Made with high-quality materials
Front and rear suspension
Drum brakes on the front
Easy to use and comfortable
Cons
It might be a bit small for dirt biking
Kawasaki KLX110
The next option we will recommend to you is the Kawasaki KLX110, which is a very renowned brand around the world, especially their dirt bike is popular among people around the age of 13 to 18 years.
This dirt bike is also an excellent recommendation for those in the beginners' level of dirt biking, so it is suitable for kids around 13 years. Everything about this bike is high-quality, professional-grade, and safe as well. The engine is powerful 4-stroke with one cylinder that comes with a fuel capacity of 1 gallon. The design of this bike is made fitted for kids as the overall height of the bike is 37.6 inches with a 26.8 inches height for the seat, which is an excellent option for short riders.
The brake system of this dirt bike is a drum type, which is very powerful and high-quality for a kid's dirt bike. The brake will not cause any problem and have a smooth stopping every time. Overall, this dirt bike is very lightweight, weighs only 167.5 lbs. The weight will be convenient for the kid to move around the bike easily and quickly. There are three colors available, and they are black, white, and green.
Pros
Suitable for beginners
It has a high-quality, powerful 4-stroke engine
Drum type brake system
Lightweight
Available in three different colors
Razor MX350 Dirt Rocket Electric Motocross Off-road Bike
When you are looking for dirt bikes, one brand that you will always hear about is Razor, as they are trendy in the community. That is why this time, we are bringing you their Razor MX350 Dirt Rocket Electric Motocross Off-road Bike.
This is another bike from our recommendation, which is electric. This is a high torque electric dirt bike, which is exceptionally suitable for kids around 13 as they are made explicitly for them. The bike's overall height is about 31 inches from the ground, making it ideal for kids to get on and off and play with it. It is also considerably lightweight as it weighs about 70 pounds. As it is an electric bike, it runs with a battery. The battery for the bike has a 12V power that needs to be a charge for 12 hours and can run continuously for 30 minutes.
All the equipment needed for the bike is provided by the company and will come with the bike after purchase. As for the brake has a rear brake with the hand-operated option, which gives you the freedom to deal with your own. There are no concerns regarding safety for this bike as well, and it is also available at an affordable price with all the high-quality features and providing.
Pros
Electric motorbike with powerful 12V battery
Comfortable and safe
Hand-operated rear brake
Offers high torque
Lightweight
Affordable price
Cons
Battery life is too short
Razor SX350 Dirt Rocket McGrath Electric Motocross
If you have liked the previously recommended one from Razor, you will also like this option as we recommend another famous one from them. This time we are bringing you the Razor SX350 Dirt Rocket McGrath Electric Motocross.
This bike is relatively new on the market, and Razor surely does not know how to disappoint its fans! This dirt bike has all the features needed in a dirt bike to win the heart of the users. The Supercross biker Jeremy McGrath specifically inspires this bike. The frame and part have the MC geometry and graphics to match McGrath's performance, speed, and quality. The bike has an electrical motor of 250W that can reach up to 14 mph of speed.
The battery has a 24V worth of lead-acid battery, which can run up for at least 30 minutes and seven miles in one go with fully charged. This bike is also suitable for young teens who do not weigh more than 140 pounds. The bike has a riser-style handlebar with 12-inch pneumatic knobby tires, which makes the bike very comfortable and easy to use. The brake is also hand-operated for easy access and reliable for emergency stops.
Pros
Inspired by Supercross rider Jeremy McGrath
Can up to 7 miles for 30 minutes
Electric bike with 12V battery
Hand-operated brake
Lightweight and convenient
Cons
A little tough to control the speed
Honda CRF150R
The next dirt bike we are going to recommend you is the Honda CRF150R, which is a 2018 edition of the Honda dirt bikes, made to compete in a higher level of dirt bike competition.
If you are a parent who wants to gift their child the best dirt bike to gain the ultimate experience, this one from Honda will live up to your expectation. This dirt bike is made to impress. It is designed to have a single-cylinder Honda Unicam engine to get the best riding possible. In the 2018 version, there have been so many upgrades added, and they came up with a new version of CRF150R Expert. The size of the bike is perfect for all sorts of riders.
The bike is very lightweight, only weighing 43.6 pounds, which also makes it very compact and convenient for your child to use. The suspension setting of the bike has a good acting ability, which will allow it to run through the roughest track possible. The exhaust system has a stainless-steel-made header with a re-packable aluminum muffler. Overall, the bike is made to be high-quality and a perfect match for 13-year-olds.
Pros
Made with high-quality material
It has a lightweight design
Has single-cylinder Unicam engine
Compact and convenient for use
Good action exhaust system
Cons
The handles are a little bit high
XtremepowerUS 49CC 2-Stroke Gas Power Mini Pocket Dirt Bike
The next option from our suggestion of dirt bike is going to include the XtremepowerUS 49CC 2-Stroke Gas Power Mini Pocket Dirt Bike to the list of the best ones for a 13-year-old to ride.
If you are looking for a mini dirt bike for your young child, then you might want something which is safe yet very fast to quench the thirst of speed racers. This bike from Xtremepower is what you need to satisfy yourself and your kid. This bike has great control, grip, speed, and safety all together in one pack. The bike is designed with a 2-stroke engine, which is very environment-friendly and fuel-efficient. The engine has a long time, which will allow your kid to enjoy and get attach to the bike for an extended period.
The bikes are made with a steel frame to ensure their stability and durability. The motor has a high torque that will allow the rider to enjoy speed up to 15-20 mph, while it might depend on the terrain. There is back spring suspension on the bike with front hydraulic to ensure a smooth riding experience. The brake is hand-operated and situated in both front and back, so it is safe for the rider.
Pros
Has speed and safety assurance 
It runs with a 2-stroke engine
Fuel sufficient and environment-friendly
It has a hand-operated brake on the front and back
High torque motor with controlled speed
Steel frame for stability and durability
Cons
Some complain the durability is not what it is marketed to be
Burromax TT40 Gas Powered Offroad Racer
The next bike from our recommendation is the Burromax TT40 Gas Powered Offroad Racer, which is a perfect size bike for young riders to learn their dream dirt biking.
This dirt bike is made with a design of a motorcycle, but it is perfect for running on the rough terrain of dirt biking. This piece of the dirt bike is made genuinely to satisfy the customers with the design for being cool and have the best quality. To ensure the fantastic look, the bike is designed with a distinct large diameter aluminum to allow wheels and a wider 21 inches seat. The seat is very comfortable and adjustable for the rider to gain control over their riding. The rear suspension and telescopic front are made with a heavy-duty welded steel tube frame.
The seat is more comprehensive and more extended for the rider but is comfortable enough to reach for the handle easily. The engine of the bike is a 40cc 4-stroke engine, which is much simple and easy to use and get service. Overall, the bike is stable and durable for being a kid dirt bike and will allow your kid to have the best fun of their life.
Pros
Has 40cc 4-stroke engine
Wider and longer seat
Comfortable and durable
Aluminum alloy wheels
It offers a smooth ride
Affordable price
Cons
Not the best off-road option according to customers reviews
Se7en 2wo 40CC 4-Stroke Gas Powered Scooter Mini Dirt Bike
The next bike we are going to recommend to you for your 13 years old is the Se7en 2wo 40CC 4-Stroke Gas Powered Scooter Mini Dirt Bike, which is another suitable bike for the teenage rider with appropriate safety options and design.
This bike from Se7en is initially made in China, and it is known to be a high-quality and durable bike for young riders. This dirt bike is made with an engine of 40cc that is run on a single-cylinder. The engine is also the 4-stroke engine that is going to provide a kick-out solid session for the bike to ride an unlimited riding. The whole construction of the bike is done with high-quality material that can handle any type of situation, including the roughest terrain possible.
The bike has a comfortable seating position, and it is quality convenient for the rider to operate everything from the distance and the height. The brake of the bike is situated in the front and rear and is very strong and will give the rider full ability to control the speed however they need to.
Pros
Made with high-quality material
Stable and has fantastic control
Rear and front brake
It has a 40cc single-cylinder 4-stroke engine
Provides air-cooling
Cons
Has some issues with the constant chain falling
Suzuki DR-Z125L
The final dirt bike from our list of the best dirt bike for 13 year old boys is the Suzuki DR-Z125L.
This dirt bike is another appropriate dirt bike with high-quality performance safety for young riders. The bike is made to be reliable and perform the best. The bike has a long choke lever on the left side that needs to be getting pushed down to be triggered. It very convenient for young new riders to learn with a fresh start. The engine of the bike is a 4-stroke single-cylinder bike that can run with a five-speed transmission.
With the suspension, which will allow you to do what it needs to, the rider can quickly learn how to go high and Hillclimb with this bike. Everything about this bike is suitable for the rider and comfortable enough for them.
Pros
4-stroke single-cylinder motor
Has a reasonable control over speed
Durable and comfortable
Easy to use
Cons
The brake system could have been better
What Size Dirt Bike for a 13-Year-Old
When you are going to buy a dirt bike for your 13-year-old boy, you will have to consider the size of the bike a lot. For sure, you are going to worry for their safety, and the matter of security is related to the size of the bike your boy is riding. As much as the size of the bike relates to the physical traits of the rider, it also depends on the power, engine, and experience of the biker as well.
There are various power and engine bikes available, and among the ones we mentioned, there are 65cc to 125cc ranges available. The power and the engine of the bike highly depend on the experience of the rider. As the power of the machine will tell you how speedy the bike can run, the controllability of the rider comes to question regarding this matter.
If you boy is experienced enough, you can surely choose a high cc bike for them. But if they are only a beginner, you better consider the thought of speed control. In this regard, we suggest using an electric bike than a motor one. Also, the physics of your boy is highly dependent on the bike size. The bike needs to have a seat and height that matches the rider. It should not be too high and significant that the rider is unable to reach for the equipment as it might lead to further accidentals. That is why buying a size that is suitable for the person is required.
Buying a Youth Dirt Bike: Factors to Consider
Riding a bike is not an easy matter, and when it is the bike for younger riders in their early teen, you surely need to work more than you think you should. By no means, you want your boy to get hurt by doing something that they like. Hence, it is your duty as a guardian to buy the one that is suitable for them. When you purchase a bike, the things you need to consider are-
Quality
The first thing you should look for is the quality of the bike. The quality of the bike is depended on the performance and safety measures of the whole bike. You want your little guy to ride a bike that shows extraordinary performance with high safety control.
Safety
As we have just mentioned, safety is also an essential factor to consider. You need to find a bike that is suitable for the size of the person and matches with their ability of dirt biking.
Budget
Another factor to keep in mind when buying a bike is the budget. It is true that a high budget will surely buy good things, but sometimes it is not valid. You need to look for something that is suitable for your boy whether it has a low or high price. And if you are with a limited budget, you will have to control the range, and you will indeed find a suitable one.
How To Train Your Child For Bike Ride
Training a kid to ride a bike is more complicated than teaching an adult. You have to consider various aspects regarding their age and ability when you are preparing them. If you are going to train them how to ride a dirt bike, it might be more challenging than teaching them how to ride regular bikes. But there are always proper ways to do it. Well, how the kids are learning also depends on them, so no one can tell you the exact way to follow the teaching training. But we can share some tips for you so that you can have a head start, and if you are stuck somewhere, you can come up with a solution.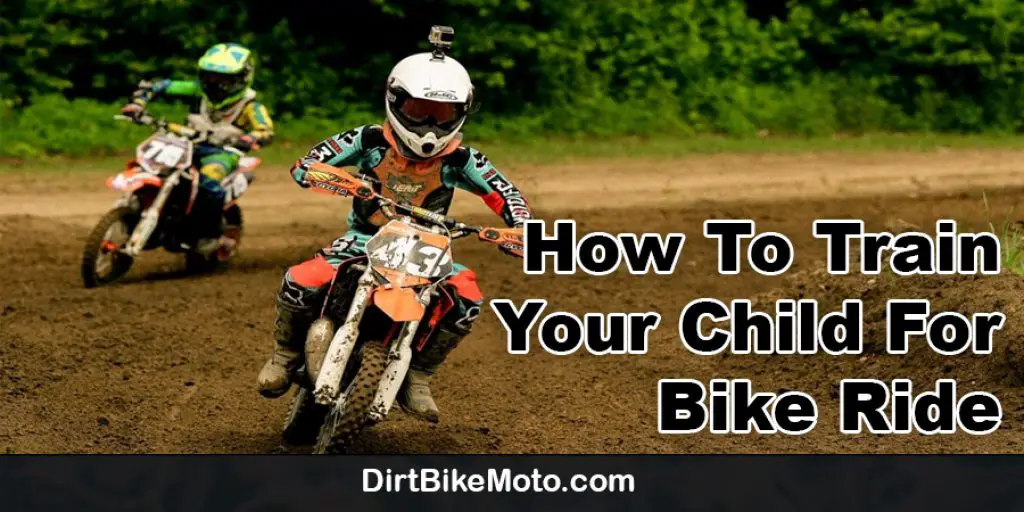 The first tip we are going to give you is to find a suitable bike for the rider. If your rider is a 13-year-old boy, you can find one bike from our list. But always consider their ability, experience, and their physics in mind when you see the bike. It is better to start with a basic bike and then slowly upgrading the quality.
Teaching on the right trail is also very important. You should not start with the actual dirt bike trails in the beginner. Instead, you should teach them to step by step, starting from a flat surface to slowly move with to a rougher one.
Another thing you should always keep in mind is that you should not use training wheels. Indeed, training wheels will allow the learner to control the biker faster, but if the riders are not 3 or 4 years old, you should not use training wheels. It is always better to start with a bike that has similar wheels or wheels made for dirt bikes.
Also, remember to give them a break and let them rest. As we all know, once kids start to enjoy something, it could be really tough to control their wishes. That is why you need to make sure that you are allowing them to have a break and let them relax before each ride. You also have to make sure that they are practicing every day to muster up the skills quickly.
Get the Appropriate Bike for your kids.
Finding the right bike for your kid is the most important factor ever. As we have suggested to you the bikes, given your tips on teaching and finding a good one, we have always mentioned that you need to get the right bike for them. But how do you know if the bike is the right one for your kid? It could be quite simple if you have some of the factors sorted out. We are going to mention few things you need to find in the bike you are buying for your kid.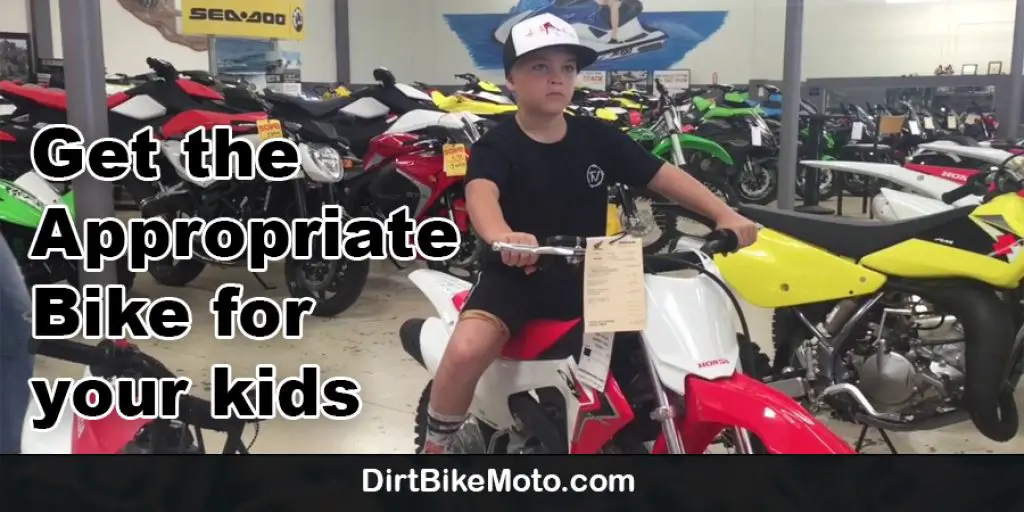 Size
The first thing you need to look out for is the appropriate size. The size matters according to the physics of your boy. Their height and weight depend on the size of the bike as well. You should find a bike that has a height level to match the rider where they can reach all the equipment properly. Also, the bike should be strong enough to hold the weight of the rider, and also the bike should match the weight so that the rider can move them properly.
Experience
The next thing you should keep in mind is the experience of your kid. If your kid is a beginner, it is better to get them a less powerful bike. A bike with 50cc or a little more should be good for them. But if your kid has the experience, you can move up the power option higher.
Their Choice
As much as the quality depends on you, the choice of the bike should have some priority over the owner. Remember to ask their opinion about the design and the outer look of the bike to your kid, so they will have extra fun riding the bike.
Frequently Asked Questions
What CC Should a 13-year-old Have?
The cc of the bike depends on the experience and the ability of the rider. If the rider has enough experience, then you should buy one with 100+ cc, but if the rider is fairly a beginner, then a lower cc, around 50-70 cc, will be alright.
Should 13-year-olds Ride 250?
250cc bike might be a little too much for a 13-year-old kid. But there are many bikes made for kids who have this much cc or higher. It totally depends on the circumstances regarding the rider. If the rider's experience, ability, and requirement match with the cc, then they can ride it.
Are Dirt Bikes Safe for 13-year-olds?
Dirt bikes are safe for anyone if they have proper training and monitoring. There are many kids who ride a dirt bike, and parents are okay with it. As it is known that young people learn better, it is better to give them dirt bike lessons as early as possible.
Should I Buy a 250 or 450 Dirt Bike?
While, both the option can be a little too much depending on the ability, a 250cc bike would be a better option than a 450 cc bike for a kid.
What is a Faster 2-stroke or Four-stroke?
Definitely, a 4-stroke bike is much faster and has a good control than a 2-stroke motor as the stroke is the speed of the bike. A 2-stroke can be unstable and less speedy.
You Can Check It Out to Lower a Dirt Bike Seat Height
Conclusion
That was all for the best dirt bike for a 13-year-old boy. We hope that all the dirt bike suggestions and information we have provided will come in handy, and you will be able to find the right bike that is suitable for your boy. We will always ask you to remember to find the right bike that matches the rider and suits their taste for better result, for you always want to give the best to the boy to experience the best when their doing something they love.