Are Kayo Dirt Bikes Any Good? Get Full Review
A dirt bike is specifically designed to run on rough surfaces and is best to enjoy adventurous rides on mountains, muddy areas, etc. Among various brands, Kayo Motor is a Chinese company that has been offering a variety of dirt bikes for years. With economical prices and multiple features, these bikes are always debated for their compatibility with such adventurous rides.
Are Kayo dirt bikes any good? These bikes are the best that you can have in terms of multiple features despite their lower prices. With a lightweight body, they are easy to move around on various types of terrains and are suitable for both beginners and experienced riders. However, these bikes will give limited riding styles for versatile riders and may show control issues with the toughest terrains and you may find it difficult to get its spare parts.
Here in this article, we will see all the pros and cons of preferring Kayo dirt bikes over other available brands. This comparison will help you in making the best decisions that will meet all your specific requirements. So stay with us:
You may also read Are Apollo Dirt Bikes Good?
Are Kayo dirt bikes any Good? Complete Review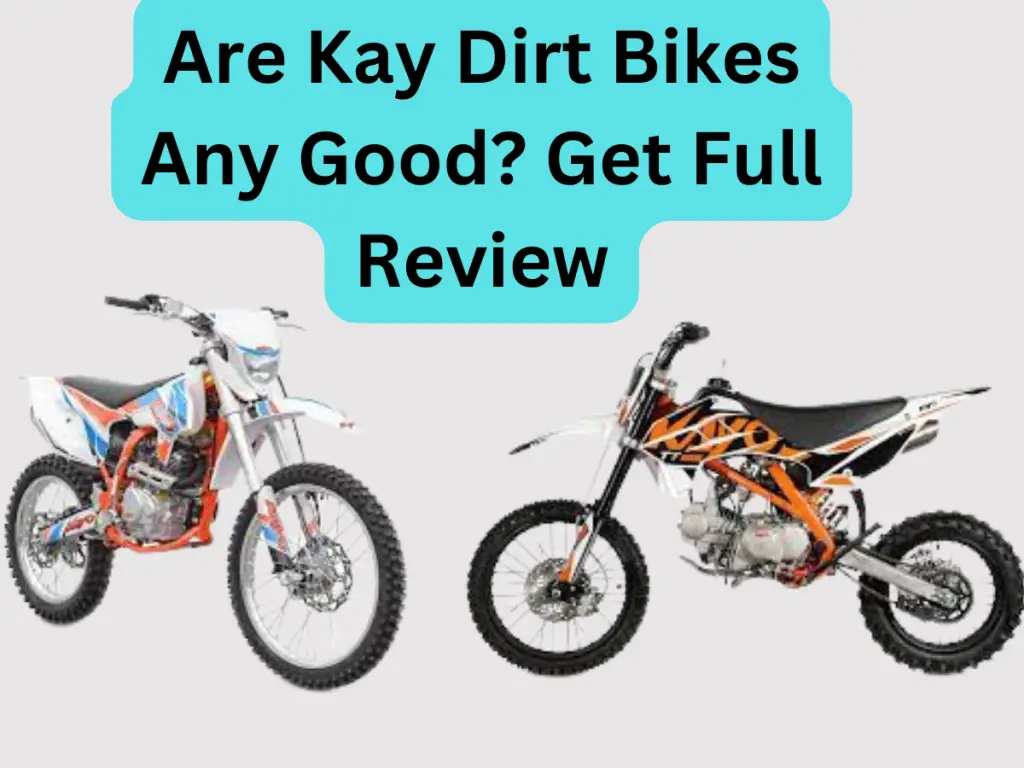 You will get your answer by looking at the benefits of having these bikes. The first positive aspect of these bikes is the reliability of the supplier, Kayo Motor. This is a well-known bike manufacturer in China that deals in various regions of the world because of its versatile nature and out-class performance. The other benefits of these bikes are the following:
Exceptional Riding Experience
Kayo Motor uses high-quality materials for making these bikes. Furthermore, it keeps on making continuous improvements in its products for the satisfaction of its customers. That is why Kayo bikes are capable of meeting the riding styles of various riders. So, whether you are looking for smooth rides or want to run them on rough surfaces, this bike allows you the freedom to enjoy in any way.
Reasonable Prices
Dirt bikes of other brands are not usually budget-friendly. So, if you are tight on your budget and want to enjoy the dirt bike experience with maximum features, then Kayo Motorbikes are the ultimate solution. They are available in the market at low, competitive prices, so they are affordable and budget-friendly. 
Positive Reviews
There are hundreds of positive reviews from customers on the internet who are satisfied by the performance of this dirt bike on various surfaces. The satisfied comments of the old customers are proof that this bike provides exceptional performance despite its low price. 
Suitable for All
Whether you are a beginner who wants to have a smooth and easy riding time or an experienced rider who is looking for adventurous rides, this bike is suitable for all. You can also have them in various sizes according to your own height to have maximum control while moving on muddy surfaces. 
Powerful Engine
The power of these bikes is strong enough to make them suitable for stunts by experienced riders. The engine also works fine when you want to ride the bike on the toughest terrains with extremely rough surfaces. Moreover, you can enjoy high-speed acceleration. 
Smooth Rides
Because of the high-end suspension system, these bikes are able to absorb the shocks while moving on uneven surfaces. This way, you will feel the least jumps and can handle the bike more confidently. That is why these bikes are also suitable for beginners who are new to the world of dirt biking. 
Strong Control
Because of their hydraulic disc brakes, you have complete control over the speed while riding. These brakes are also great in providing high security by keeping the bike speed within the normal range throughout the ride. 
Easy Access
You can easily purchase these bikes from different dealerships because they are available in various outlets. Along with physical stores, there are a number of online stores that are selling these bikes. You can check the reviews to ensure the reliability of the seller before making any purchase from any website. 
Lightweight Body
Another important feature of these bikes is their lightweight body, which is why even kids can ride them smoothly. They are easy to move around while running on rough surfaces. This thing also makes them suitable for gravel surfaces where you can navigate through various hurdles by moving the bikes in any direction. 
Durable Materials
The manufacturer only used such materials that can withstand wear and tear, so they have a longer life span. The frame of the bike is made of metal with a finish that provides protection against corrosion and rust. So you don't have to worry about moisture while running it through the dirt. 
Flexible Nature
You can get these bikes with various customization options like a change of graphics or having an upgrade for engines or suspension. You can ask the supplier to make changes in the handlebars or any other part that suits your riding style. This flexibility is also the reason behind their popularity.
Various Models
Kay Motor understands the needs of different riders, so they are offering a variety of models for dirt biking experience, like the K2 230, K4 250, Kayo TD 125, etc. They have a separate category for experienced riders with high-power engines. For beginners, simple bikes with more suspension give newbies a comfortable riding experience. So, one can make a choice according to the personal needs. 
Drawbacks of Kayo Dirt Bike
Just like the benefits, one must look at the drawbacks of choosing this brand for a dirt biking experience. Only this way they can make a rational decision. So, let's see the other side of the picture: 
As this bike is suitable for both beginners and experienced riders, still many experienced riders don't get up to the mark performance because of its limited engine power as compared to other available options in the market.
Riders who want to have dirt biking experience at extremely high speed with stunts that this is not the right option as it doesn't provide you with quick acceleration 
Another issue that users may face with these bikes is related to suspension. Many customers reported that due to the suspension being too soft, they are unable to control the bike on rough surfaces. 
People often find technical issues like loose bolts or parts worn out too quickly and need replacement. 
Many customers find it hard to get access to Kayo accessories of spare parts, which causes trouble in case of damaged parts.
All these cons are avoidable or can be overlooked by making a comparison with the price range. However, if you are not tight on the budget and want to get high-speed rides with great controls, then we recommend you go for other options available in the market. 
FAQs About Are Kayo dirt bikes any good?
Q: Are Kayo dirt bikes safe for Kids?
If you are looking for extra security, then these bikes are not for kids, as they lack certain security features, headlights, and brake lights. But in terms of easy handling, these bikes are best for kids as they are light in weight and easy to be handled by anyone. 
Q: How do I keep my Kayo dirt bike functional for longer periods?
Just like any other vehicle, these bikes need regular maintenance. You need to clean the air filter from time to time. Furthermore, one must check all the chains and sprockets and apply enough lubrication. Likewise, one must change the bike oil after regular periods recommended by manufacturers. 
Q: Can I use a Kayo dirt bike for racing?
Yes, you can use this bike for racing purposes as well because of its powerful engine and ability to run on various surfaces, including rough terrains. 
Q: What is the average life of any Kayo dirt bike?
There is no fixed time duration that we can tell regarding the useful life span of the Kay dirt bikes as it varies from person to person. The more attention people give to its maintenance, the more years they can benefit from. Furthermore, the riding styles and frequency of usage also determine the life span of any model of Kayo dirt bike. 
Bottom Line
Kayo dirt bikes are giving tough competition to other brands in the market because of their low prices and great performance. We have compiled all the benefits of having these bikes for enjoying biking on various surfaces, including muddy surfaces. We also highlight some of the limitations that you will face with these bikes, like limited riding styles, speed limits, control issues, etc. So, after reading this article, you will get the answer to your question: Are Kayo dirt bikes any good? 
Remember to prefer only reputable stores or suppliers that are offering genuine Kayo bikes only. Always consider high-quality safety gear to be on the safe side while enjoying this bike on a variety of terrains.