Best Dirt Bike Body Armor
Are you new to dirt bike riding? If not, then you should know the importance of protective gear in this sport. There is the various gear you need to protect different parts of your body, which is vulnerable to the impacts and crashes you may face during dirt bike riding. Unfortunately, you might not stop any crashes from happening, but you can reduce the impact and injuries by wearing protective gear. And one of the essential gear is body armor. Here we are going to suggest to you the top ten best dirt bike body armor.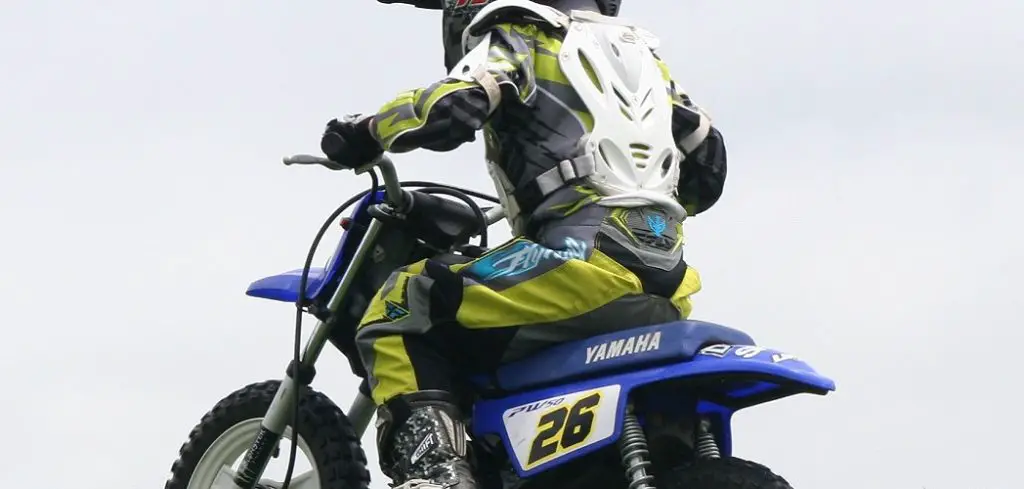 Body armor is a protective gear made with various protective layers to reduce impact and save your upper body from contracting any injuries. They are made with high-quality material and have foaming inside, which will help minimize impact and make them comfortable for you to wear. There are various kinds of body armor available. Each of the types has its unique features to provide you; all you have to do is know which one will be the best for you.
In the case of shopping for your body armor, it could be very confusing with all the choices you might find, and you will have a hard time deciding. As we know, the struggle of finding the right product when you are shopping and when it comes to protective gears, it could get more hard. That is why we have done all the research on behalf of you and found the top ten best dirt bike body armor. We are going to mention them below with features, pros, and cons to make it easy for you to choose
Best Dirt Bike Body Armor
Leatt 4.5 Chest Protector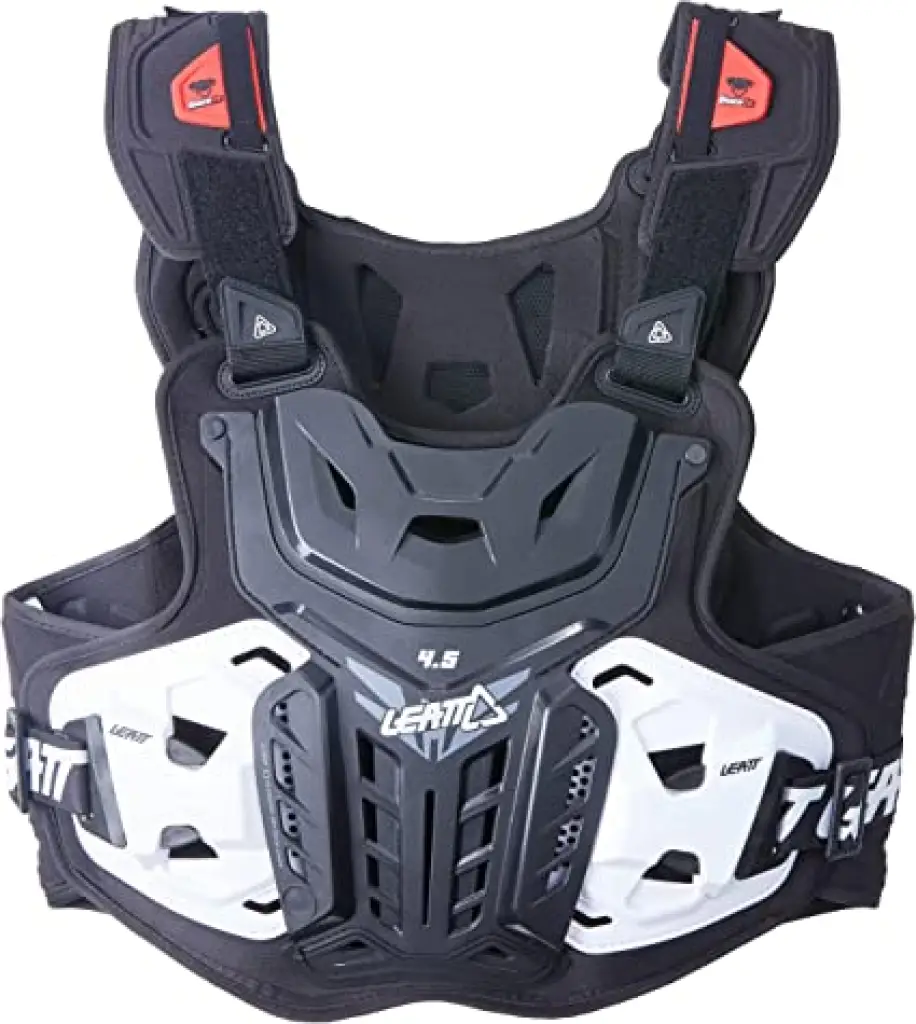 The first option for you is the Leatt 4.5 Chest protector, which is our top choice in terms of protection and satisfaction.
The best thing about this body armor for your dirt biking is that it has been tested by CE and has gotten certification from them as impact protection. It also has FFM- French Federation Certification. There are so many protective features available for this armor, making it stand out from all the other options. This one is going to give you protection for your chest, back, and flank. It comes with an adjustable flank panel that is going to ensure side protection. With a total of 12 points on Leatt protection, this is one of the best chest armors you can find on the market.
The outer portion of the chest armor is made with an HDPE shell with 3D AirFit impact foam inside as lining. The whole thing has a mesh base layer, which will allow for lightweight and breathability. There is a multi-layered plate on it, which will add to the strength of the protection. There are some ventilation slots on the armor for airflow inside.
Due to having so many layers, it is needed for air to go through it to help you feel comfortable inside, which this protective armor indeed does. The chest and the backplates are removable, which will allow you to have an over or under jersey neck brace fit.
Pros
Has HDPE outer shell
3DF AirFit foaming inside
Removable chest and backplate
Ventilation slots of airflow
Adjustable flank panels
CE and FFM certified
Cons
There are no shoulder pads
O'Neal 1285-004 Holeshot Chest Protector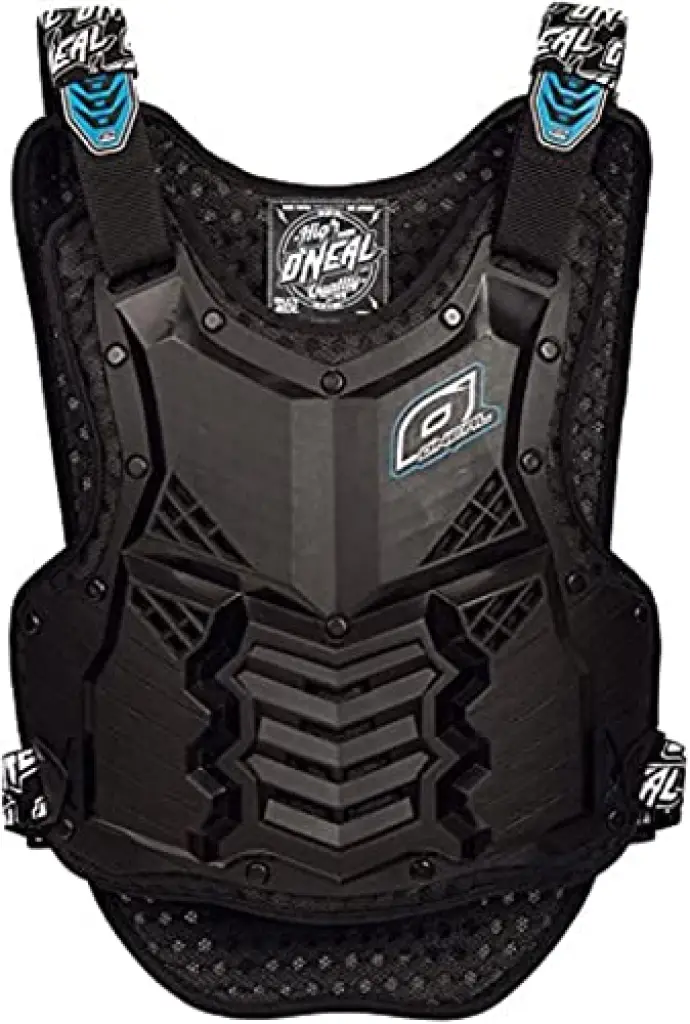 We have the following option for you: the O'Neal 1285-004 Holeshot Chest Protector, which is another great protector for those who love to ride dirt bikes and want to ensure safety.
This is a heavy chest protector, which does what it is meant to. That is to protect the user from all the impact and risk of dirt bike riding. This armor comes in various sizes, so it is suitable for young riders to adult riders for use.
This armor is compatible with a neck brace, which gives you a lot more options for safety. Unlike the previous option from us, this chest protector comes with shoulder padding to give your shoulders some protection and comfortability when wearing them. The padding is airprene for maximum support.
When you are wearing a chest protector, you are not only done by wearing it. You have to make sure the armor is adequately secured on your body to give you the benefit of complete protection. This chest protector comes with an integrated waist closure system that will allow the armor to stick to your body correctly. It also exceeds the EN14031 safety standard so that you can put your trust in this chest protector.
Pros
Has shoulder protection in ariprene
Neck brace compatible
Secured with waist closure system
Form-fitting
Matches EN14021 safety standard
Cons
A little challenging to take on and off
Fox Racing Unisex-Child Youth Titan Motocross Roost Deflector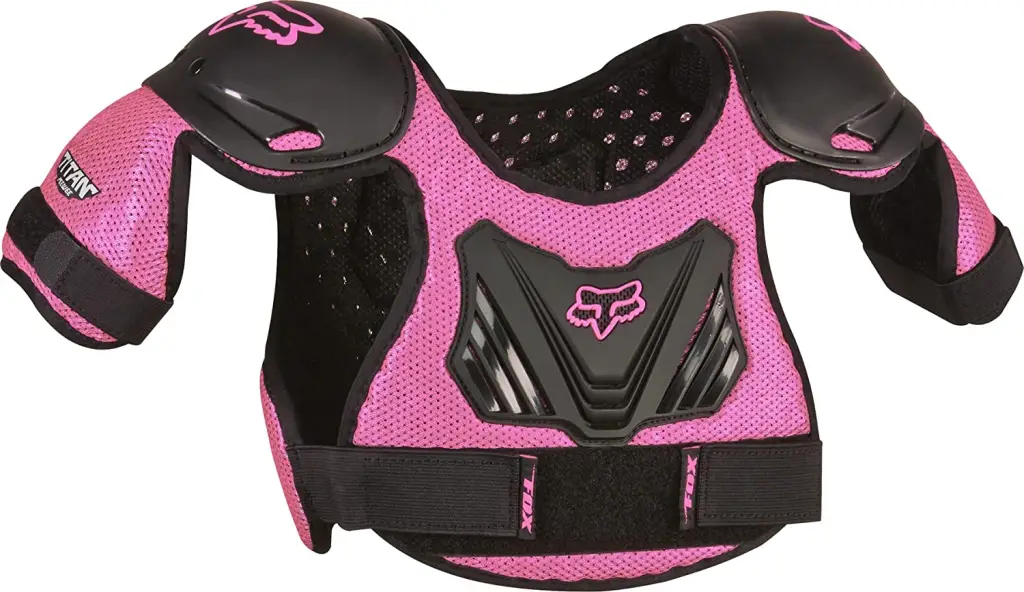 When it comes to chest protectors for biking, Fox Racing is one of the most heard names for serving the riders' best quality and protective body armor. This time we are suggesting their Fox Racing Unisex-Child Youth Titan Motocross Roost Deflector.
This body armor is for youth riders who are starting their new dirt bike riding journey and need to have the utmost protection to reduce their impact when riding the bike for practice. This armor is made to be flexible and comfortable in design.
It will surely give all the Peewee riders the maximum coverage of protection to save them from worries. This whole-body armor is sculpted with perforated foam chassis. Although there is a lot of foaming inside the suit, there is still enough room for breathability and scope for airflow inside the case to ensure the user's comfort.
There are elastic waist straps on the suit that will help you secure it on your body. The straps come with a hook and loop, allowing you to adjust the tightness according to your need, and are very easy to use. There are shoulder pads on the armor with injection-molded plastic, which will ensure safety alongside durability. The chest and the back pads are made with hard rubber, which is again, ensures durability. This suit is compatible with any off-roam motorbikes.
Pros
Flexible and comfortable design
Perforated foam chassis
Allows airflow inside
Easy to use elastic waist straps
Hard rubber chest and back pads
Plastic shoulder pads
Cons
It is not for adult dirt bike riders
Alpinestars Unisex-Adult A-10 Full Chest Protector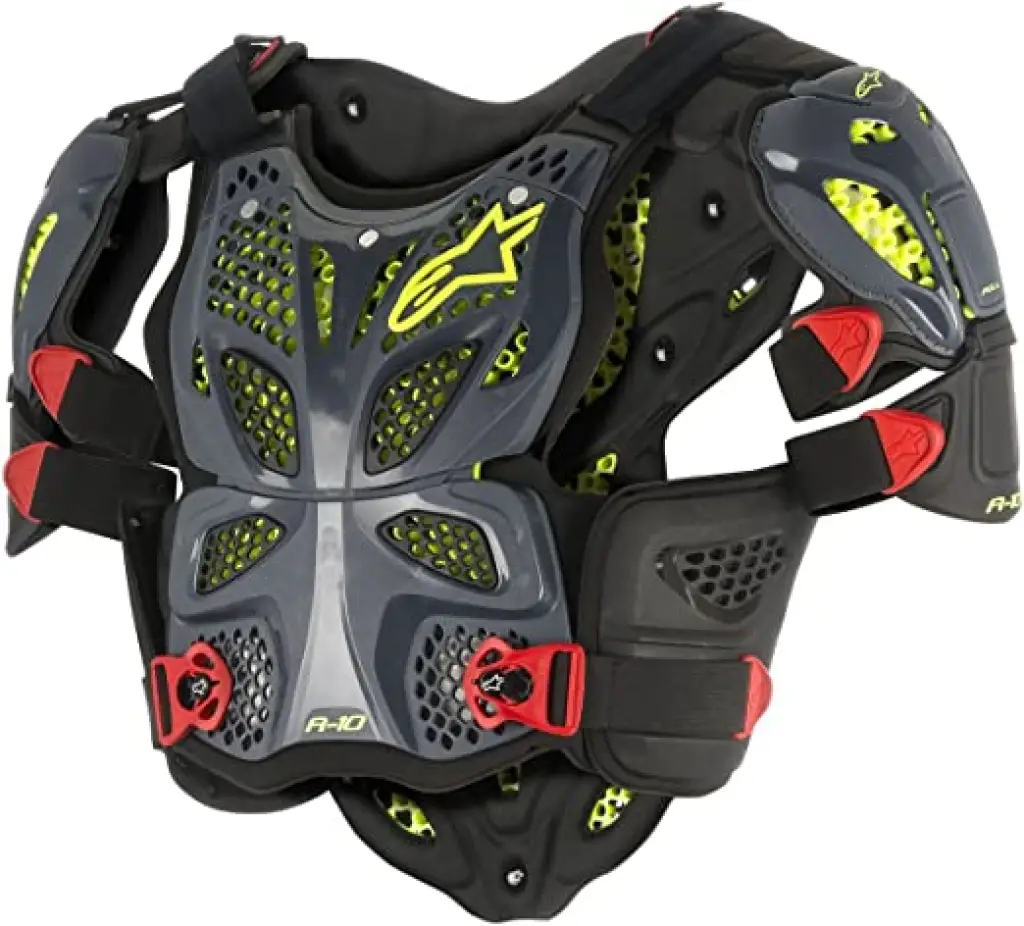 The next option we have for you is the Alpinestars Unisex-Adult A-10 Full Chest Protector.
This is yet another chest protector for dirt bike riders, which has the CE certification that is going to ensure you that this protector matches all the safety standards. The chest protector comes with a feature to remove the upper front panel and back padded panel so that you can make it compatible with BNS.
Not only that, it has a modular design to allow the support of BNS neck support. The modular design also allows you to wear this armor in various configurations for various riding situations you may face, which is a fantastic option for making this protector versatile. The neck support also has a BNS puller for convenient and safe engagement.
As in the biceps, there is removable EVA padding that has a locking system on the shoulder. This will ensure that your protection is secured, and you will have the best time wearing these armors. As for comfortability, there is enough breathability option, and with the soft bio-foam padded chassis on the whole body, you will get the maximum amount of comfort.
It also comes with a side adjustable kidney belt that allows you to get a proper fit as you wish. With the quick-release attachment system, you will have no problem fitting or removing the vest.
Pros
Has a modular design for various BNS support
Certified by CE
Neck support with padded panel compatibility
Removable EVA padding
Adjustable kidney belt
Ventilation for comfortability
Cons
The back protector is longer in the back
Tukuey Kids Motorcycle Armor Suit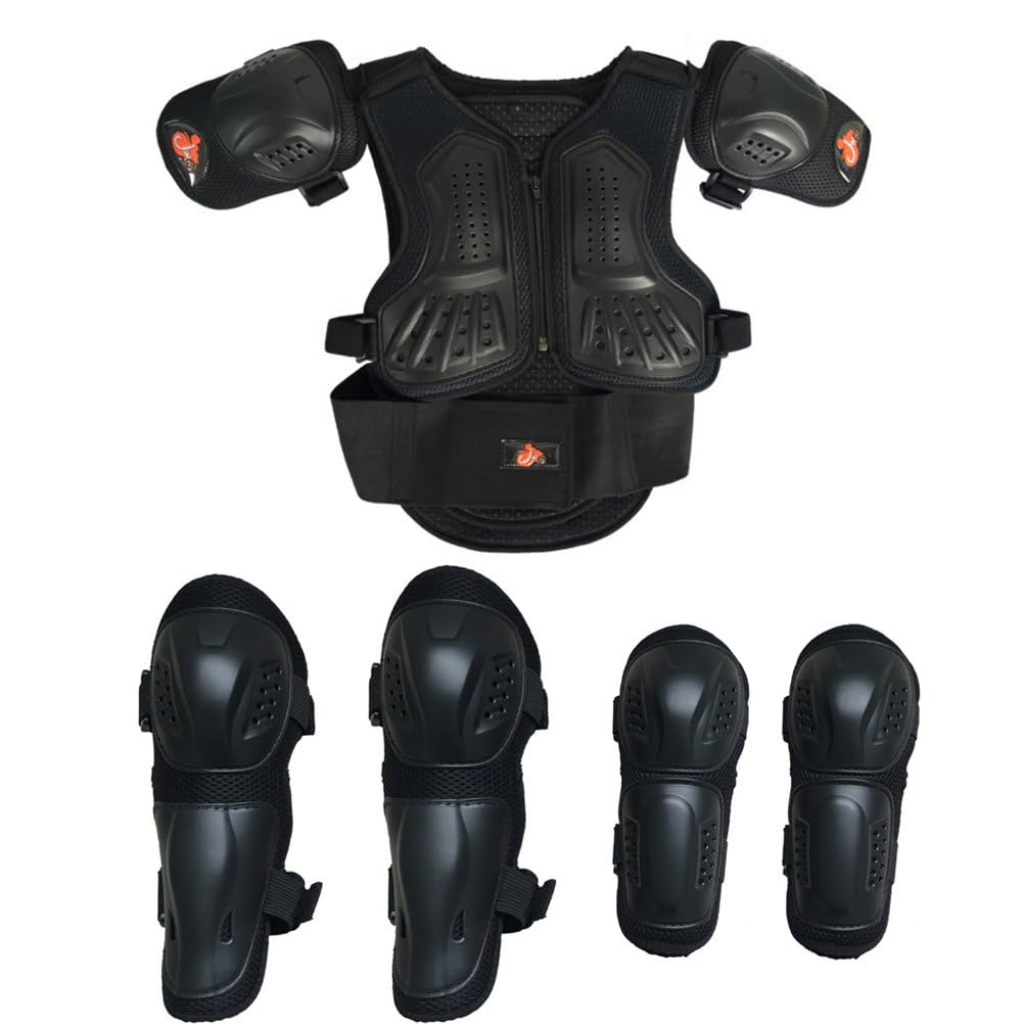 For all the people looking for body armor for kids, we have a suggestion for you. The Tukuey Kids Motorcycle Armor Suit will be a great choice to keep your little one safe from any injuries.
This is a full-body armor suit, including chest and back protection, elbow pads, and knee pads.
With this suit, you will not have to worry about anything else as you get everything in one packet. This suit is made with PE shell and thick velvet material. The inside of the case has a foaming buffer layer, which is there to make things comfortable for the user. An elastic band will allow the suit to have a hugging fitting to the owner, as form-fitting is necessary to get all the benefits of the protection.
The knee and elbow pads it comes with can be detachable. You can use them separately if you want, which is another convenient option. The waist can be adjusted and bonded with the Velcro on the top. The design is called 3D as it has all the charismatic features to it. It will surely give your little dirt bike rider the best protection they need.
Pros
Made with PE Shell and thick velvet
It comes with knee and elbow pads
Comfortable design
It gives full body protection
Adjustable fitting
Cons
A lot of people complained about not receiving all the parts
Alpinestars Unisex-Adult A-10 Full Chest Protector
The next product we are going to recommend you is the Alpinestars Unisex-Adult A-10 Full Chest Protector.
Alpinestars is one of the oldest motorcycle equipment companies, providing biking items for more than four decades. This chest product is for adult dirt bike riders, and it is made with all the things that will ensure the owner's safety. The type of this chest product is called Powersports protective gear. We have already suggested one armor from the Alpinestars, and this one has lots of features common with this one. It also has a modular design with various compatibility. It allows you to have neck support.
There are paddings on the shoulders and arms to give you extra protection. The paddings on the biceps can be removed, and with the soft bio-foam padded chassis, you will feel very comfortable. The armor is also adjustable, and you can fit it according to your likings.
Pros
Has neck support option
Shoulder and biceps protection
Removable EVA paddings
Comfortable and durable
EVS Sports Men's G7 Ballistic Jersey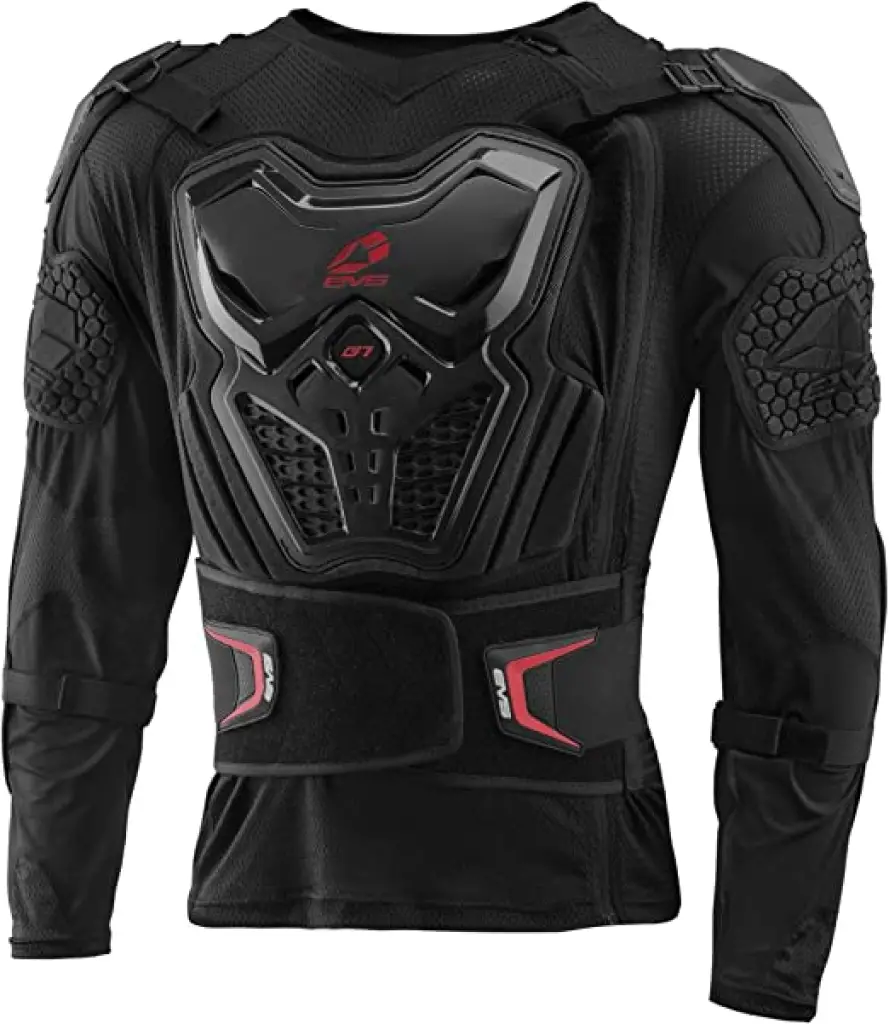 The next option for you is the EVS Sports Men's G7 Ballistic Jersey, which is another amazing option for body armor that we are glad to review.
This sports ballistic jersey is known to have top-level protection, which CE approves on being protective on the back and the front. Therefore, its main aim is to provide the maximum level of upper body protection. The design is not only safe but also comfortable. It is made to be lightweight and breathable to ensure that the owner has is feeling safe and comfortable at the same time to make their dirt bike riding more enjoyable.
The outer part of this body armor is made with hard polymer plastic, and it will cover your whole upper body, including the back, elbow, shoulder, and chest. The design is made to be worn inside or outside the jersey, whichever is your preference. A built-in kidney belt is a great feature to secure the item with your body. There is also a side zipper to ensure proper fitting. The articulated spine protection that it has will give you more flexible options. There are vents inside, which will allow airflow and make it breathable.
Pros
Provides complete upper body protection
Has built-in kidney belt
Size zipper for a personalized fitting
Lightweight and comfortable
Has vents for airflow and breathability
CE certified
Cons
Not compatible with a neck brace
Fox Racing Men's Airframe Pro Motocross Jacket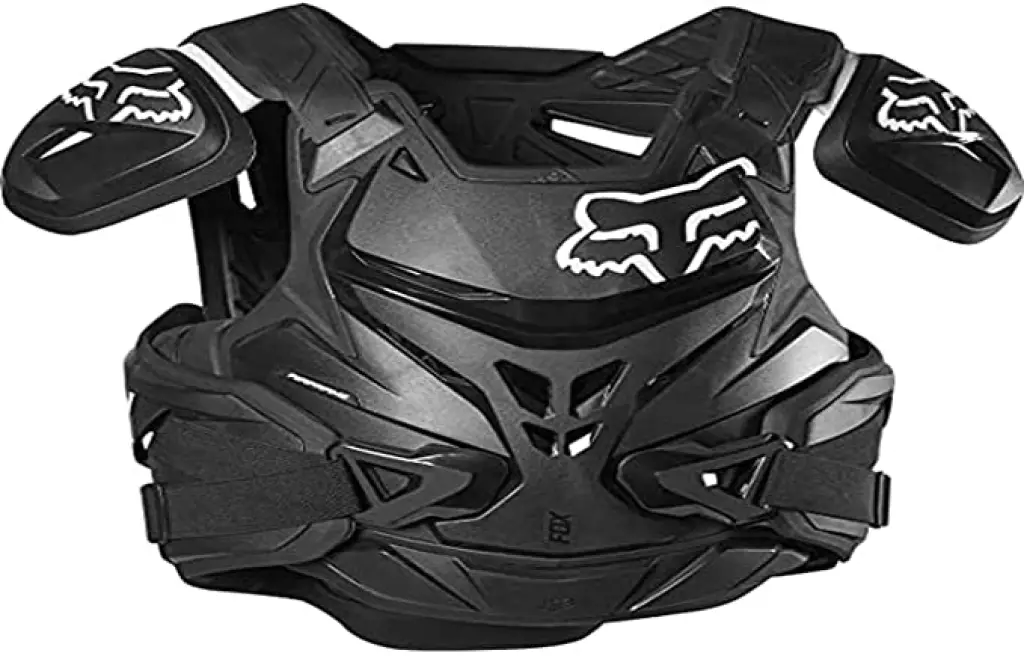 The next option from us is going to be the Fox Racing Men's Airframe Pro Motorcross Jacket. This jacket is an adult jacket, which is excellent in both safety and comfort terms.
The first thing that we are going to mention is that this jacket is another addition to our collection, which is approved by the CE protection. It has impact protection on the shoulders, chest, and back. The inside of the jacket is fully covered in EVA foam lining.
he foam inside has a moisture-wicking ability and will allow you to breathe through the jacket by providing enough airflow. The airflow is provided through the plenty of ventilation cutouts settled on the chest, back, and shoulder. It will cool your body by trespassing air inside. You can wear this suit inside or outside of your items of clothing.
The shoulder pads that are integrated into the jacket can be removed. There are straps on the shoulders, which will allow you to adjust the jacket according to your correct fittings. The body armor is not stiff like some others; instead, it has some dynamic flex hinge that will allow you to flex and move to wear this jacket freely. The lower back area of the jacket is extended to protect the side of your ribs, which you can secure with the elastic straps that come with two buckles. This jacket is even compatible with the neck brace.
Pros
Comfortable and breathable
Certified by CE
Has ventilation cutouts
Extended around rip with straps
Customize fitting
Compatible with the neck brace
Leatt Brace 5.5 Pro HD Chest Protector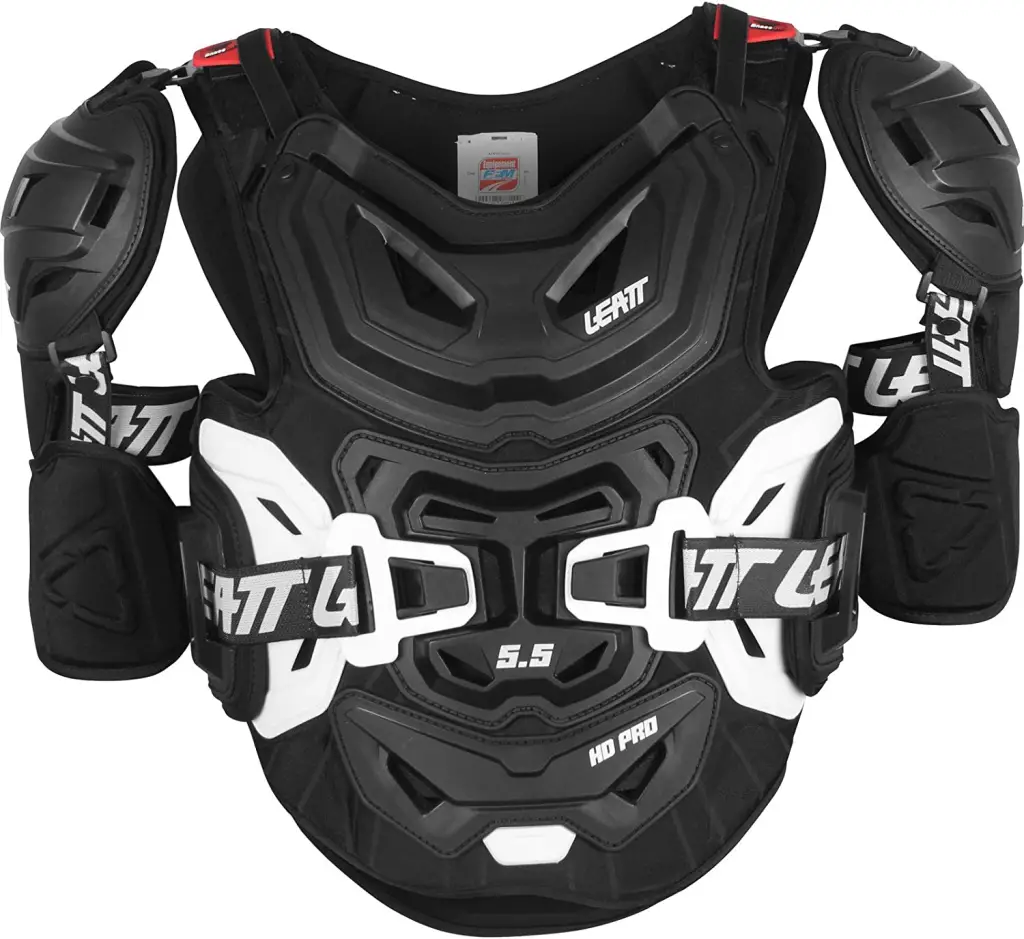 The following body armor for the dirt bike rider that we found good is the Leatt Brace 5.5 Pro HD Chest Protector. We have already suggested a few more Leatt armor previously, which has a 20 point Leatt protection score, and this one also has the same.
The whole body of the suit has an HDPE hard shell protection, which is enough to create all the boundaries to cancel any impact. The protection also comes from the 3DF AirFit impact foam, which is covered all over the body. The foam flexible and can transform into hard energy when there is an impact. The protection is provided to the chest, shoulder, and back. The shoulder has pads that you can remove if you do not want to wear them. There are even adjustable flank panels that are going to provide additional safety to the sides.
This jacket comes with a design of 53 ventilation slots, which is going to provide maximum airflow inside to keep things cool and breathable. There are adjustable straps on the shoulders to give you a custom fitting. It is compatible with neck braces and certified by CE for safety measurement.
Pros
Certified by CE
Has neck brace compatibility
Has 53 ventilation slots
Comfortable and breathable
Can transform impact into hard energy
Removable shoulder pads with straps
Fly Racing Mini Convertible II Roost Deflector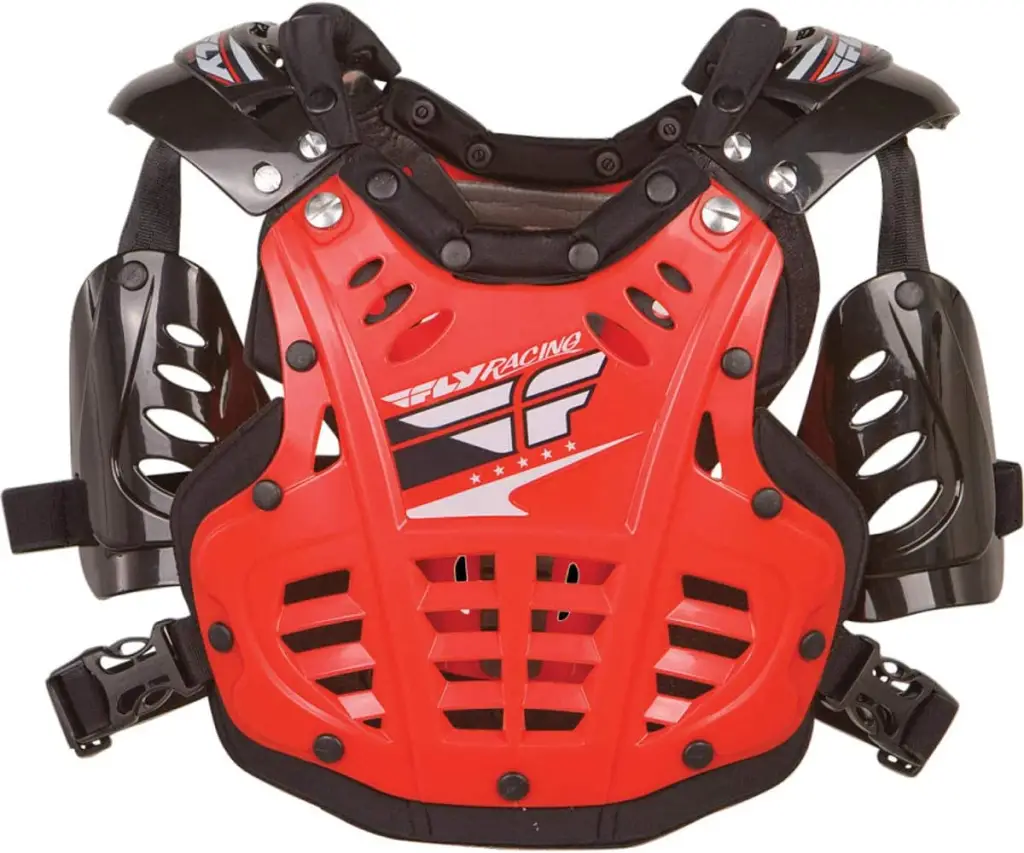 The final product from our list of the best dirt bike body armor is the Fly Racing Mini Convertible II Roost Deflector.
Although it is labeled as roost protection, this armor will give you more than you may think. The design of this armor is made to provide the best protection to dirt bike riders. The whole thing has complete chest protection that extends up to the shoulders and biceps. It is not only good with safety, but the comfortability is also high notch. The design includes a quick-release system that will allow you to take the jacket on and off easily and quickly.
There is more reason for this jacket to be comfortable. It comes with various built-in locking systems that will allow you to have a very fitted form of this jacket so you can incorporate all the safety protocols properly. There are high-impact zones available. The whole thing has a ventilation system for airflow and breathability. The suit is also compatible with a neck brace.
Pros
Chest, shoulder, and bicep protector
Quick-release system
Ventilation system
Comfortable and breathable
High impact zones
Compatible with a neck brace
Cons
Its size is only for kids
How To Choose The Best Dirt Bike Body Armor
The body armor for dirt biking is for protection. When you are crazily biking, there are going to be times when you come across a crash and injure yourself. In those times, you would want to reduce the impact from the crash, and to do that; you would need the help of body armor. There are thousands of options available for you, and for that, you might get a little confused about choosing the best dirt bike body armor. Here are few things to consider when you are making a choice.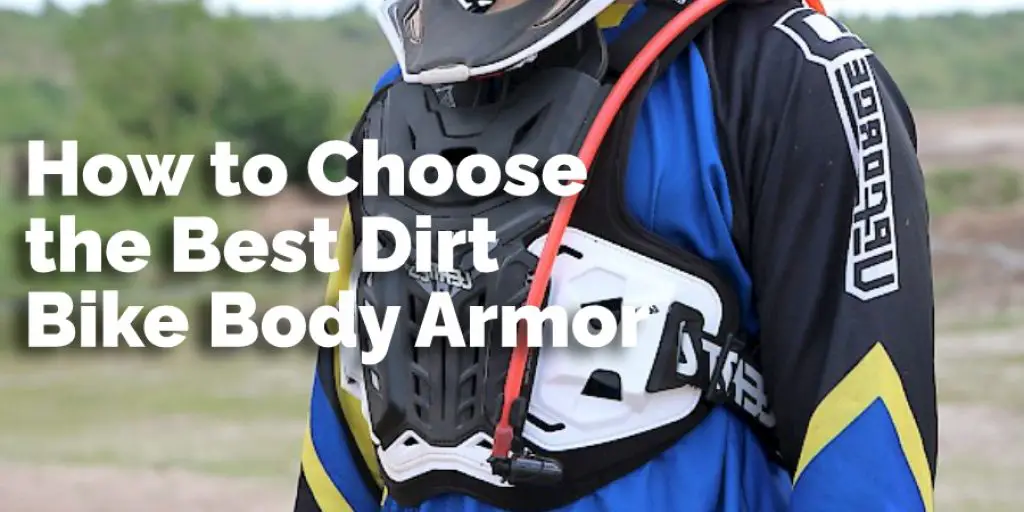 You need to find the right type of suit. There are chest protectors, body pressure suits, and other variations. Each of them has different functions, so you need to see which will suit you.
Some of the suits might not cover the whole upper body; instead, they will only focus on specific parts. It would be best if you made sure what part you are trying to look for and buy accordingly.
You also have to focus on comfortability as well. The armor should have a good fitting with some space for breathability. It should have a ventilation system with foaming to keep everything inside cool.
Features to Look For In The Best Dirt Bike Body Armor
It is always better to decide what type of product you are looking for when you are shopping. When it comes to some safety gear for your dirt bike riding, various questions regarding the quality and the features will come. You should always keep in mind the exact features you are looking for in your body armor, as it will help you select the right one for you to save you from all the clashes. To help you out, we will mention few features that we think you should keep in mind when choosing the armor.
The Quality
The first thing you should always look for is the quality. The quality of the suit will tell you how well it will perform, what it will do, and how long it will last. You want something that has high-quality material and enough durability so that you will be able to wear these armor for a long time. The quality will also make the armor perform in the best way.
Safety
These are the essential features of body armor. You have to make sure that this armor comes with all the safety features you are looking for. It needs to protect your upper body as a whole from any impact and other incidents. It does not matter how big or small the accidents could be; your armor needs to keep you safe.
Comfortability
Another important thing you should keep in your mind is the comfortability of the jacket. When you are wearing the jacket, you will need to wear it when you are riding the bike. If the suit is comfortable, you will have a good time wearing it. Otherwise, it could become bothersome.
What Is the Difference Between Dirt Bike Body Chest Protector and Dirt Bike Body Armor
There is some visible difference between a body chest protector and body armor. As you can already tell from their title, the chest protector is mostly made to protect the chest area, and the body armor is a fulling covering the whole upper body. Usually, the basic type of chest protector will only cover the chest area and provide protection. But the body armor will allow you to protect your whole upper body.
The body armor will have a chest protector inside it as it will give protection to the chest, back, shoulders, and biceps. A lot of people might want to buy body armor to be safe from all the impacts that could be harmful to them. Whereas the chest protector will also give your protection, but they are is not as broad as body armor.
What Is A Chest Protector For?
A chest protector is meant to protect the user from any kinds of impacts and crashes. It is a very popular type of protective armor for off-road bikers, who have to come across various hazardous situations when riding their bikes. When it comes to dirt bike riding, you will have to move through the uneven road a lot and might, unfortunately, meet some unavoidable accidents.
During the accidents, you will get a lot more impact. The work of a chest protector is to protect your chest area to reduce impact and the chances of injuries to your chest. There are many other kinds of protectors available for dirt biking, but chest protectors are very popular among them. They might not be able to provide you with all types of protection and save your whole body as one, but they will surely reduce the impact on sensitive areas that could lead to fatal injuries.
Roost Deflectors vs. Chest Protectors
When you are going to look for body armor for your dirt biking, you might come across various types of protection, and among them, you will surely see two names, roost deflector, and chest protector. The preparatory work for them is to protect you, but what they protect you from and how they do it might make them different in some senses.
As for roost deflectors, they are not your impact reducer. They will not help you avoid injuries and reduce impact. What they are going to do is to protect you from scratches and minor incidents. That is why they are called the most basic type of protector.
The chest protector does a lot of heavy works. Their main work is to reduce impact and save your chest area from any injuries. They might not be as helpful as body armor, but they do what they are meant to, protecting the chest area.
Frequently Asked Questions
How Much Does Dirt Bike Armor Cost?
There is the various price range of dirt bike armor. It depends on the brand, quality, and type of armor. Usually, the price of a dirt bike armor might start from $50-$300.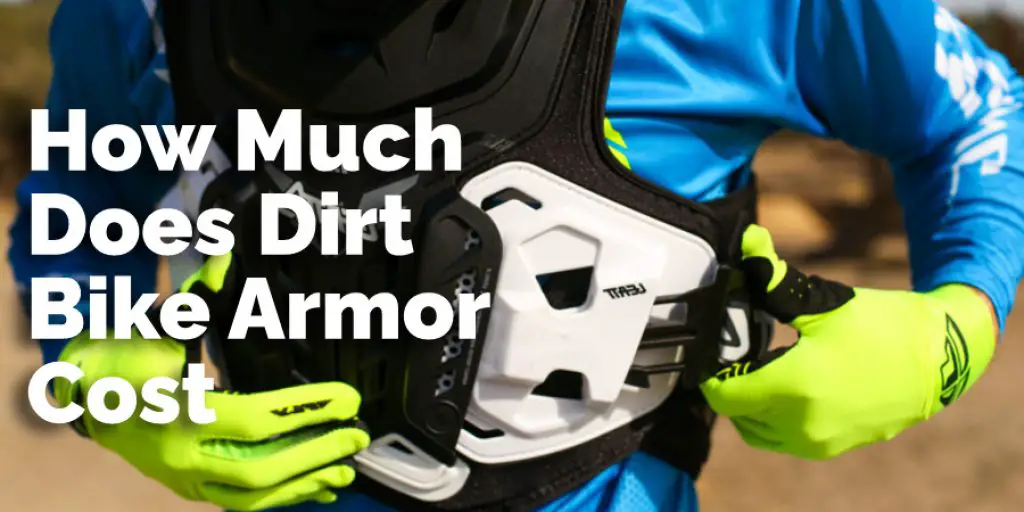 Do Pro Dirt Bike Riders Wear Chest Protectors?
Yes, pro dirt bike riders do wear chest protectors. So of the pro riders like to wear chest protectors rather than body armor. All they want is to protect their chest area from any kind of impact.
How Much Does It Cost to Motocross?
If you want to join motocross, you might have to spend around $2000 to $20,000. The cost mostly depends on the dirt bike, gears, equipment, repairments, and the race fee.
What Gear Do Motocross Racers Race in?
There are some specific gears that you need if you are planning on going for motocross. The essential things you will need are an MX kit, helmet, boots, goggles, chest or body armor, knee pads, shoulder pads, elbow pads, and a neck brace.
Does Motorcycle Body Armor Really Help?
Yes, body armor is essential if you are riding a competitive bike, especially dirt bikes. Because you might come across various impacts during the ride and crashes, so you need something to protect your body part, which is why you need the body armor.
What Does 13 Mean to a Biker?
The number 13 indicates the letter M, which primarily stands for marijuana or other drugs connected to motorcycles.
Conclusion
That was all about the best dirt bike body armor. When you are a dirt bike fanatic, you should also know that this sport comes with various dangers, and as a rider, you have to be prepared to overcome them. The first thing you should always do is wear protective gear, and body armor is a must.
We tried our best to suggest to you all the best body armors we could find. We also have provided various information to help you out on choosing and understanding body armors better. Hopefully, our recommendations will come in handy for you and find the best body armor for you.