Best Dirt Bike Handguards
Dirt bike handguards are an essential part of any rider's gear. They protect from flying debris and also keep the rider warm in cold weather. This article will review the top 8 best dirt bike handguards on the market to ensure you get a high-quality product that fits your needs. The best dirt bike handguard is comfortable, affordable, protective, and lightweight, so it doesn't inhibit performance. So let's take a look at our list of products below!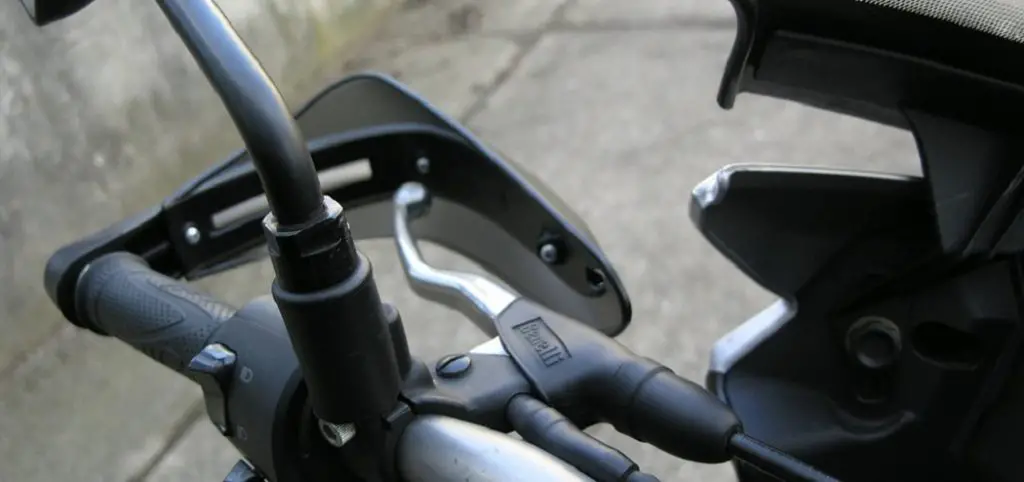 Top 8 Best Dirt Bike Handguards 
JFG RACING Motorcycle Universal Dirt Bike Hand Guards
The first thing you'll notice about these dirt bike handguards is the unique rugged design, which not only adds to the look of your vehicle, but also gives excellent protection for your hands from rocks and debris while you're driving in low-pressure conditions.
They install easily right on the frame mounts and even come with the mounting hardware needed for a quick installation. So whether you like off-roading or racing, JFG Racing Universal Hand Guards can't be beaten!
These Handguards for Dirt bikes and other motorcycles are durable yet lightweight, plastic and aluminum alloy which means you'll ride steadily every time. Smaller cuts allow for excellent fit over your fingers with unrestricted movement to keep you in control of the throttle while driving. 
From the rocks and icky mud on your gloves to the cold air blasting through your jacket sleeves, it's a rough life of riding. But with the JFG Universal Handguards, you can protect your hands from these things AND have an excellent grip on your handlebars!
JFG Racing's Universal Handguards are an easy way to make sure you're ready for anything. Sold in pairs, these guards install easily and include all the necessary mounting hardware. Get some protection now before a wheelie gets out of control!
Pros
Easy to install
Great grip on the handlebars
Excellent protection
Keeps fingers warm
Universal fitting
Great price point!
Cons
Alumunium quality is not good
JFG ATV Hand Guards with Universal Mounting Kits
JFG ATV Hand Guards are the perfect accessory for your dirt bike. Made from durable materials, these protective handguards will keep you looking good and staying safe while going on all of those exhilarating trails. To install, simply bolt them onto the handlebars by drilling four small holes with NO risers needed!
This upgraded high-impact PP plastic and 6061-T6 aluminum alliance mean that your hands will stay protected for longer periods of time without scratching up the paint of the bike. Made from more sturdy materials than standard aluminum bars, these not only offer protection but also prevent damage to other parts of the vehicle – all while keeping them looking pristine for as long as possible!
The JFG ATV Hand Guards feature a universal mount for dirt bikes, motocross motorcycles, ATVs, or Quads to protect both hands from weather threats upfront or rear. The kit comes with all the mounts. You need to attach them wherever you deem fit. Protecting the palms of your hands is just as important as protecting other parts of your body while riding around outside in any type of terrain.
These guard handguards with universal mounting kits are the perfect accessory to protect your hands from those rough, bumpy trails and handbrake turns. We want you to be able to ride out on that dirt bike of yours worry-free, so get these guards before it's too late! 
These JFG handguards Offer protection from brush, rocks, mud, and cold wind with JFG's ATV handguards with universal mounts today! Reduce the fatigue in your hands for a better grip while driving. These are exclusive to JFG -racing that you won't find anywhere else!
Pros
Sturdy and durable 
Easy To Install
Features  high-impact PP plastic and 6061-T6 aluminum alliance
Protects from rocks, brush, mud, and cold wind 
Reduce fatigue in hands for a better grip
Give Enough Room For Brake Cables and controls
Cons
Quality is not good enough
JFG-RACING Black Handguards for off Road ATV Motorcycle
The JFG Hand Guards are designed for cold-weather riding, allowing toasty hands while providing protection. It is also resolute to withstand the impact of a crash and extend the life of your motorcycle!
These over gloves handlebar brush guards provide style and protection in one convenient package for riders who want to make sure their hands stay safe during rugged rides. Designed with reinforced panels for an extra secure fit that can even withstand crashing or wiping out, these motorcycle handguards come at just the right time!
Never worry about being left on the sidelines because of injuries sustained by your hands again with this clever invention as a part of your accessories today! Made of durable yet lightweight PP plastic and aluminum alloy, these braces will be sure to protect your fingers or hands in the event of an accident while reducing fatigue on the rider. 
These black handguards from JFG-RACING are the solution for you. The nickel-plated steel bracket and slotted openings make it easy to mount onto just about any bar, as these will fit 7/8″ 22mm and 1 1/8″ 28mm handlebars. These should work on most off-road ATVs and motorcycles!
This product also won't let your hands get fatigued over rougher terrain, so you can ride free while looking stylish! Lightweight & Stylish Motorcycle Protectors (ATV) by JFG-RACING Increase Your Longevity Riding Exciting Motorcycle Off-Road Trails.
Pros
Lightweight & Stylish 
Designed with reinforced panels
Protects hands and fingers in the event of an accident
Easy to mount 
Affordable
Made of durable, yet lightweight PP plastic 
Cons
Not fit well on most bikes
Acerbis 2142000001 Rally Pro X-Strong Black Handguard
The Acerbis Rally Pro X-Strong Black Handguard is made of an ABS plastic base and includes a steel bar-end insert that will not allow the guard to rotate in a crash. Plenty of room for cables and brake lines, this handguard is perfect for mountain bike riders who are looking for protection when trying out new tricks or on trails with rocky terrain.
You'll find that this handguard will be easy to mount, thanks to an indexed steel bar-end insert that mounts solidly to the handlebars and won't allow it to rotate in a crash like other cheaper models with poorly designed brackets. It also has plenty of room for cables or brake lines, making installation a breeze under the sturdy plastic clamps.
Furthermore, this handguard is made with an integral spoiler incorporated into its design so you can enjoy a comfortable ride through any terrain. With the new X-Strong universal mount kit that fits 7/8″, Pro Taper, Magura, and Twin Wall aluminum handlebars, these handguards are easy to install on your dirt bike as they are also small in size but provide excellent protection against minor impacts from flying dirt or branches.
Forged in high-impact, composite injection molded plastic with an upgraded mounting system to prevent even the most demanding conditions from slipping, this guard is ready to take on anything. With black sealing for durability and strong aluminum inner guards for added safety, choose Acerbis rally pro handguards today!
Pros
Easy to install
Durable and strong
Great for trail riding
Comes with black sealing for added protection against dirt particles
Can withstand the most demanding conditions without slipping.
Fits many different handguards mounts
JFG RACING Universal Dirt Bike Hand Guards
Slip these dirt bike handguards onto any handlebars to get that extra protection while adding some style points for good measure. From JFG Racing, they're designed with high impact ABS plastic molded around an aluminum bar- something other guards might have missed in their design. 
No matter what kind of handlebars you have or how old your bike is, these can fit any style of dirt bike by replacing the mounting hardware with a range that fits 7/8″ and 1 1/8″. Made from sturdy materials like high-impact ABS plastic molded around the solid aluminum bar, there's no downside! They're also lightweight, so no added bulk on your bars.
These handguards have enough armor to withstand more than a few rounds with the chunky stones and dirt on the road but will still keep your hands safe and warm. The creative design from JFG RACING is perfect for any riding enthusiast who wants an accessory that turns their model into more of an imaginative work of art.
Protect your hands from flying rocks and debris with these transparent, comfortable guards. These stylish, lightweight pieces don't interfere with breathability. In fact, they significantly cut down on the risk of blisters and rough calluses caused by riding a dirt bike in the wilderness for hours!
They are lighter, more durable, and less obstructive than most. With their sleek design, they're also easy on the eyes! These dirt bike handguards are simple to apply and provide your hands with extreme protection during the race. Don't get caught off guard without any safety gear; pick up these Hand Guards today. 
Pros
Made from sturdy materials 
Provide protection from blisters and rough calluses
Less obstructive than most handguards
More sleek and stylish design
Lightweight, durable, and easy to apply
Provides protection without being too bulky or uncomfortable.
Kolpin Hand Guard with Mirror
With this Kolpin Hand Guard with Mirror, you'll get visibility while avoiding the dangers of being off-road. It features a round, 3″ (76.2mm) fisheye rearview mirror that will be easily seen and mounted on any ATV handlebars in seconds!
This universal fit design mounts directly to most ATV handlebars and features around the fisheye rearview mirror, which makes it easier than ever before to reverse or turn around vehicles. Now you can keep an eye on your surroundings while driving and not worry about straining your neck. Don't get lost on the trails without Kolpin Hand Guard with Mirror!
Designed for dirt riders, this Kolpin handguard can take the rough wear and tear of tough off-road terrain. Its durable molded polyurethane construction ensures it'll never break or crack on you (not even after an ambush). Plus, its versatile design fits almost any ATV with a handlebar. 
The innovative design allows for direct passage between front forks, making installation quick and easy on most models. In addition, this kit includes a protective mirror arm gem, so you never lose track of what's behind or in front of you on hairy trails!
Pros
Durable
Versatile
Comfortable and stylish design
Protective mirror arm gem
Easy installation
Cons
It- Not a 100% universal fit!
Acerbis X-Ultimate Handguards
The Acerbis X-Ultimate Handguards are designed to work in perfect tandem with your bicycle, giving you superior protection from abrasion when compared to other handguard systems. The patented and removable nylon bracelets protect your hands if they become entangled, preventing injury or loss of control of the bar.
The X-Ultimate will also help prevent damage or dirt from getting in between fingers. Its chicken wire design is reinforced with fibers and cork and protects the hands better than other guards. As an added bonus, it includes nylon bracelets that can be used as kangaroo clips for securing bags or things to gas tanks when riding offroad.
Along with protecting against gloved punches and abrasions from trees, rocks, and more these guards help deflect heat that can come off engine parts whilst ride. Keep you out of harm's way with these chains saw-proof guards! 
The Acerbis X-Ultimate handguards are stretchy and sleek with a way to adjust them for the perfect fit. They're the perfect addition to any dirt bike while giving you extra grip, clearance, and adjustment that enhances your ride.
This X-Ultimate handguard combines modern performance protection and rider communication in one sleek package that fits nicely behind the pump, out of the way when you don't need it. Utilizing the latest air vent technology for maximum ventilation and reduced wind resistance, this Acerbis handguard is an excellent choice for those wanting to keep their hands cool on long rides.
Pros
Easy installation
Adjustable to fit any size rider
Clearance and grip for improved ride performance  
Keeps hands cool on long rides
Gives superior protection from abrasion 
Ventilation for a comfortable ride in any weather
COBIKE Universal Motorcycles Handguards 
COBIKE's motorcycle handguard balances mobility and stability, enabling you to ride in greater comfort for more hours on the road or track. As an aftermarket accessory that attaches to your handlebar grips, COBIKES gives you an unobstructed view of the road ahead while protecting your hands from injury should they come into contact with a solid surface during a crash.
These COBIKE Universal Motorcycles Handguards are worlds apart from those flimsy little handguards that you sometimes see at the hardware store. With an aluminum insert, and enough room for brake cables and other devices, these aftermarket racing styles offroad handguards offer maximum protection to anything that might get in between you and the bike. 
These handguards are made from solid aluminum and plastic for maximum protection and have room for your brake cables and other devices. They'll protect you from raindrops getting underneath while also following industry standards.
These Motorcycle Handguards are just the thing for reducing hand fatigue and giving you more control over your scooter. These handguards live up to their name with their patented grips system bonding rubber cleats onto strong polymers so they don't slip off or away from your fingers when they're wet or greasy.
World-renowned for this soft-touch silicone grip handles, COBIKE™ brings the same great feeling to your handguards! This one-size-fits-all design is compatible with most motorcycle models. So keep cool and look good, with COBIKE's high-quality motorcycle handguards designed especially for you.
Pros
Secure and comfortable grip
Helps to reduce hand fatigue
Fits most models, one size fits all
Plastic shield gives maximum protection
Allows for greater control over the handlebars
Cons
No instructions guide provided
Install Handguards on a Dirt Bike
After You've purchased the best dirt bike handguards for you then how you can install them on your bike? Here we mentioned them below:
The first thing you need to do is find the screws that will hold the handguards in place. This can be done by looking for holes on your dirt bike's frame where a bolt may go through and attach with nuts and washers, or sometimes they are welded or attached with adhesive pads. If there aren't any spots available, then you will have to drill new ones into the frame before installing them.
Next, make sure the bolts fit snugly inside of their designated screw hole so they don't come loose while riding down rough terrain. You'll want to tighten these up as tight as possible because otherwise, it could loosen during use which would cause dangerous distractions from what should matter most staying safe on top of your dirt bike.
Then, you'll want to attach the handguards to your handlebars with screws or bolts so they don't go flying off of them while riding down a bumpy trail. You can also use zip ties if there are no screw holes in your dirt bike's frame that will allow for one of these attachments.
Finally, make sure everything is secure and tight on top of your dirt bike before trusting it out into the world! The last thing you would want is to have something come loose when going over bumps because then it could get caught up somewhere and fly off; not good news for anyone involved!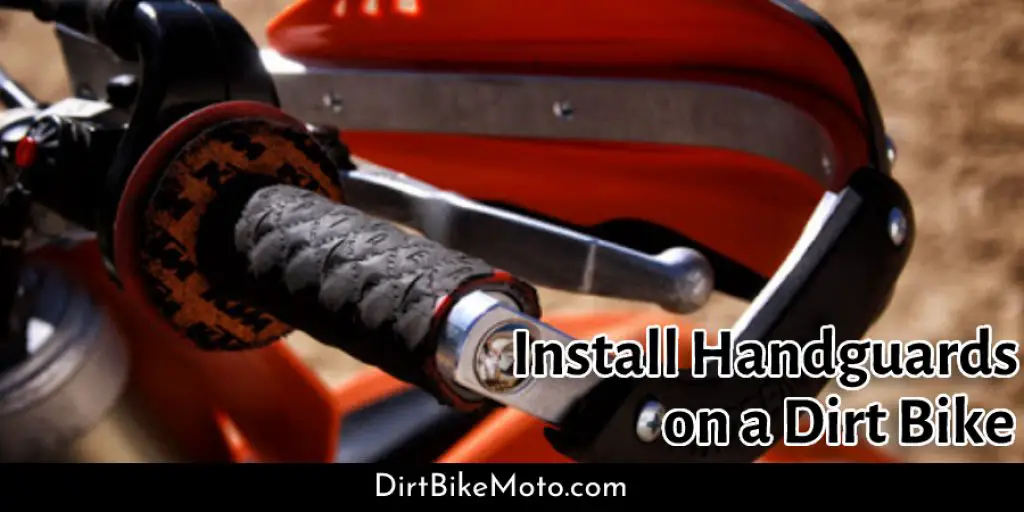 Advantages and Disadvantages Of Handguards
The following are the advantages and disadvantages of handguards.
Advantages:
Protects riders from dirt or dust spraying up onto hands in offroad conditions, which can lead to discomfort, fatigue, scare tissue damage, and chapping.
Shields rider's hands from hot engine casings during long rides in extreme weather conditions such as cold mornings or afternoons with high sun exposure.
Handguards are beneficial for both racing bikes and cruisers since they often have an air-cooled engine (which releases warm heated gases). In these cases, a guard that covers only one side will not protect either hand when the bike is in motion due to wind flow directing heat towards the unprotected hands.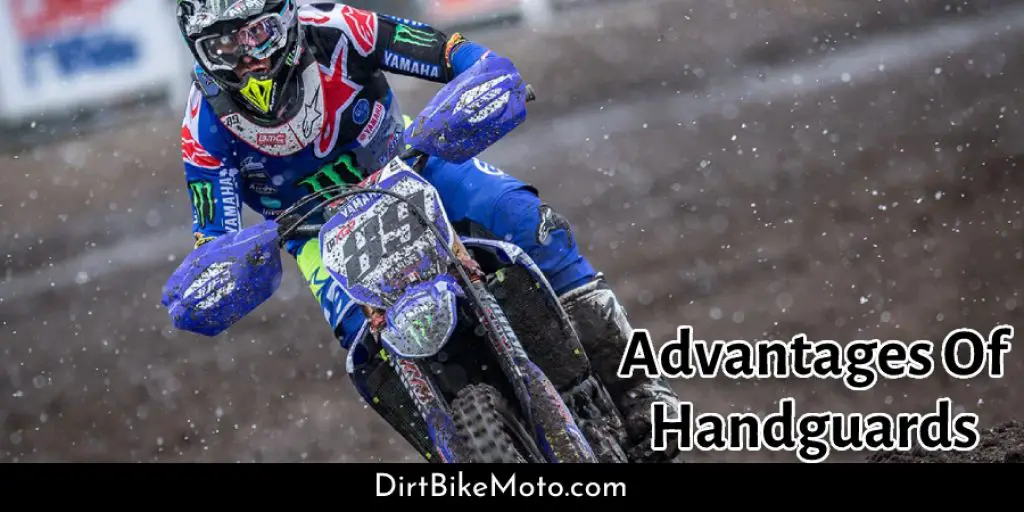 Disadvantages:
Costly and not always necessary depending on the type of motorcycle.
In most cases, handguards only cover one side and will not provide protection when the bike is in motion due to wind flow directing heat towards unprotected hands.
They increase aerodynamic drag which often slows down motorcycles by up to a few miles per hour. This can also be a disadvantage if using them for racing purposes because it's going to take longer distances for riders to catch up with other racers or finish sections where there are obstacles that they need their hands free for.
Frequently Asked Questions
How to Measure Dirt Bike Handlebars?
To measure dirt bike handlebars, use a measuring tape to find each bar's "outside" diameter. Simply wrap the tape around the outside and record your measurement at its widest point. Be sure not to subtract anything for any clamps or hardware found on either end.
How To Choose the Best Mountain Bike Handguards?
The best mountain bike handguards are those that have some sort of guard in front – whether it's just a simple rubber piece across like these from Kuryakyn or something more elaborate with an integrated shield up top and foam padding below, you want them as close to your hands as possible so they can absorb most of the impact when coming into contact with rocks, logs, and other trail obstacles.
Why You Need a Dirt Bike Handguard?
Dirt Bike Handguards are one of the best ways to protect your hands and arms from injury. The guards will help prevent dirt, mud or other material from flying up into your face during off-road riding conditions.
Best Mountain Bike Handguard Brands?
Kuryakyn is by far the most popular brand for mountain bike handguards. They have a variety of different setups that can be used on both dual suspension bikes and hardtail frames with no need for any modifications whatsoever!
Conclusion
There are a lot of different types and styles of handguards out there to choose from. We've done the research for you by narrowing down the best dirt bike handguards on the market today, as well as highlighting what makes them stand out. 
For the ultimate in handguard protection, look no further than Acerbis X-Ultimate Handguards. These handguards offer excellent protection and comfort for a dirt bike rider who wants the best of both worlds.
They're made with shock-absorbing materials that help to protect your hands from bumps on the trail, they attach securely without any rattling or vibration, and they come in an array of colors so you can find one that matches your personality!